Providing Higher Quality Diabetes Treatment to More Medical Facilities
Realizing High Accuracy, Small Footprint, and High Speed, Allowing for Mid-Treatment Test Result Reporting

New Diabetes Testing Instrument to be Released
ARKRAY, Inc. will release "The Lab 001" glycohemoglobin analyzer (hereunder, The Lab 001) on Wednesday, July 24, 2019. Using dedicated reagent cartridges developed through the application of microfabrication technologies, hemoglobin A1c*1is measured using a unique technology employing capillary electrophoresis. By realizing a small footprint, high-speed device which retains the accuracy of large-size instruments, mid-treatment test result reporting is made possible and improved diabetes treatment can be provided not only to large scale hospitals but also mid- and small-scale facilities and clinics.
"The Lab 001" to be released from ARKRAY Inc. (hereafter ARKRAY) will be the first in a series of "The Lab" products, the branding for which was newly created in May of this year. Using dedicated "The Lab 001 A1C HD" reagent cartridges developed through the application of microfabrication techniques, hemoglobin A1c is measured using capillary electrophoresis, providing results in 90 seconds with results comparable to large-scale instruments which employ the HPLC*3 method while achieving a small footprint. "The Lab 001" also possesses the capability of separating (detecting) variant hemoglobin*4 (which can affect HbA1c measurement results), allowing for the accurate measurement of increasingly diverse samples.
From the above, "The Lab 001" demonstrates that it is a superior instrument to instruments of similar size in terms of overall evaluation of measurement accuracy and speed. Testing can be performed with a mirco volume (1.5 μL) of finger tip blood, thus the physical burden placed on the patient can be kept to a minimum. Additionally, disposable cartridges which can be stored at room temperature and only require the direct application of the sample and setting to the instrument to begin measurement lower the work burden on clinical workers.
The current number of diabetes patients in Japan has risen to 3.29 million and if the number of patients who are strongly suspected of having diabetes are added, the number surpasses 10 million*5. The number of patients will continue to increase, as will the aging of Japanese society, which means that the need for cooperation between diabetes specialists and primary care doctors, as well as the need for cooperation between nurses, dietitians, and pharmacist, etc., are likely to increase.
Since its initial concept planning, 17 years have been invested into "The Lab 001". It provides simple, fast and accurate results not only to diabetes clinics, but will contribute to high quality diabetes care at many medical facilities.
ARKRAY will continue to work as a pioneer of diabetes testing and design testing systems of greater use to more medical facilities.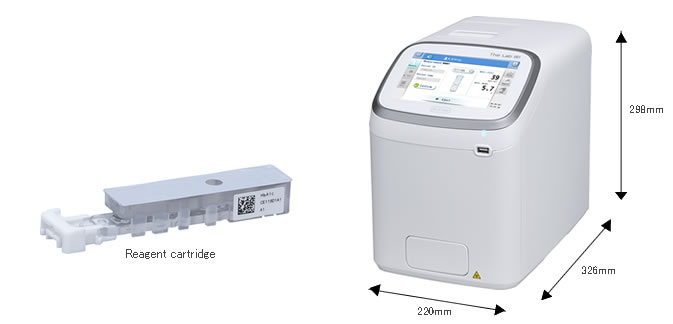 Primary Features
○ High accuracy
Like the latest HPLC method-based instrument (ADAMS HA-8190V), The Lab 001 is capable of detecting (separating) variant hemoglobin providing more accurate test results.
○Fast measurement
Test results are output approximately 90 seconds after setting the reagent cartridge, thus test results can be confirmed before treatment.
○Easy operation
Measurement can be performed only by applying 1.5 μL of blood from the patient's fingertip to a disposable reagent cartridge and setting it to the instrument.
○ High usability
No liquids are produced, and complicated daily maintenance is not required. Also, the cartridge can be stored at room temperature.
Measurement principle
Capillary electrophoresis
In this method, a high voltage is applied to a capillary filled with electrophoresis solution, to which the sample is introduced. By doing this, the difference in speed of each constituent contained in the sample can be used to separate them. In the case of the "The Lab 001", the employment of a unique method involving the application of capillary electrophoresis allows for the realization of highly efficient separation of each type of hemoglobin by using the difference in their electrical charges.
Terminology
*1 Hemoglobin A1c serves as an indicator of the average blood sugar level of the past 1 or months. HbA1c is formed when hemoglobin within red blood cells combines with glucose.
*2 A fabrication technology in which minute protrusions, grooves, holes, etc. are formed on a material
*3 HPLC is a method to separate the individual constituents into each element and to calculate their proportion to the whole. It is used as a high precision method for measuring HbA1c.ARKRAY developed the world's first dedicated hemoglobin A1c analyzer using HPLC back in 1981, which is still widely used in medical facilities today.
*4 Genetic mutations result in the replacement of constituent amino acids within the hemoglobin inside red blood cells. This affects the 3D structure of the hemoglobin. There are a number of different types of variant hemoglobin. Among those, HbS, HbC, HbE and HbD are well known. Although many people with variant hemoglobin are said to be Southeast Asian and African people, it is also said that one out of every 2,000 to 3,000 Japanese people possess variant hemoglobin. As the number of patients increase worldwide in the future, a greater need for variant hemoglobin detection is anticipated.
*5 References:The Ministry of Health, Labour and Welfare, "Overview of the 2017 Patient Survey"
Product Overview
Name
"The Lab 001" glycohemoglobin analyzer
Release date
July 24, 2019 (Wednesday)
Specifications
   Measurement subject
Whole blood
   Measurement item
HbA1c
(Capable of outputting HbF, L-A1c, HbA0, HbE, HbD, HbS and HbC peak information as reference data)
   Reagent
The Lab 001 A1C HD
   Meas. range
HbA1c (IFCC): 20.2 to 151.4 mmol/mol
HbA1c (NGSP): 4.0%~16.0%
   Measurement principle
Capillary electrophoresis
   Measurement time
Approximately 90 seconds per specimen
   Required sample size
1.5 μL
   External dimensions
W: 220 x D: 326 x H: 298 mm
   Weight
Approx. 10 kg
Sale price
Recommended Delivery Price: 1,200,000 yen (before tax)
Registration number
25B1X00001000059
Category
Class I (general medical devices)/Specific Maintenance Medical Device
This product will be sold through ARKRAY Marketing, Inc.
ARKRAY Marketing, Inc. is ARKRAY's distributor in Japan.