Jul 07, 2016
Responding to new needs of diabetes testing
- Release of HbA1c analyzer that can detect variant hemoglobin -
ARKRAY, Inc. will newly release the glycohemoglobin analyzer ADAMS A1c Lite HA-8380V in Japan on 15 July (Fri). This instrument enables detection of HbA1c*1 and variant hemoglobin*2 by employing the HPLC method *3, and shall thus serve to respond to new needs related to diabetes testing.
The ADAMS A1c Lite HA-8380V, due to go on sale from ARKRAY, Inc. (hereafter 'ARKRAY'), is an HbA1c analyzer with a compact design. In addition to highly accurate measurement of HbA1c using the HPLC method, the instrument contains the ability to separate out and detect a selection of commonly-occurring variant hemoglobin types. Through these features, the instrument shall thus serve to respond to new needs related to testing.
Within the field of diabetes testing, hemoglobin A1c (HbA1c) is used as a marker which reflects the average blood glucose value over the past 1-2 months. This is very important for the diagnosis and treatment of diabetes. Furthermore, following progress made for international standardization in this area, the number of patients in Japan found to have variant hemoglobin (which can affect HbA1c results) has seen an increase. This has resulted in a more complex set of needs for in-house testing. From 2015 ARKRAY started selling the ADAMS A1c Lite HA-8380V, overseas first due to the great number of patients with variant hemoglobin. Upon considering this previous business experience, we shall now sell the instrument in Japan. With this expansion, detection of variant hemoglobin shall be possible with 2 instruments; the large high-end model ADAMS A1c HA-8180V and the compact ADAMS A1c Lite HA-8380V . These instruments can be used in a diverse range of test settings.
ARKRAY developed and released its first fully-automatic HbA1c analyzer back in 1981 and since then, HbA1c measurement has become more widespread as diabetes testing entered a new era. By raising awareness about the importance of variant hemoglobin measurement and promoting even more accurate testing, ARKRAY shall continue to contribute to the diagnosis and treatment of diabetes within the medical field as a pioneer in diabetes testing.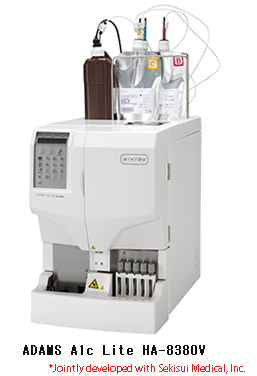 Characteristics of the product
• Switchable between 2 modes
Variant mode combines measurement of both HbA1c and HbF with detection of variant hemoglobins HbS and HbC for a measurement time of 160 seconds. Where detection of variant hemoglobin is not required, the system can be switched to a 100 second HbA1c Fast mode for increased testing efficiency.
• High performance and quick measurements for HbA1c
The HbA1c measurement precision from HPLC within the ADAMS series is combined with detection of variant hemoglobins to offer even higher precision results.
In the measurement results, analysis of hemoglobin fractions is included such as information on each peak and a chromatogram, in order to assist in assessing results. Output of IFCC data is possible in addition to NGSP values.
• Easy Operation
Simply place the sample on the rack and press the start button.
• Compact design
The compact design achieves approx. 40% of space saving compared to ADAMS A1c HA-8181.
• Easy maintenance
Consumables can be replaced easily without any need for tools. The column and pre-filter are incorporated into a single design so there is no need to replace the pre-filter separately.
• Supports prevention of infection
A rubber-capped blood collection tube can be set into the instrument with the cap-piercing method employed. This feature protects lab technicians from infection.
Terminology
*1 HbA1c (hemoglobin A1c)
HbA1c is formed when hemoglobin within red blood cells combines with glucose and is a marker to identify the average plasma glucose concentration in the last one to two months.
With the revision of the diagnostic criteria for diabetes in Japan in 2010 and the global standardization of HbA1c levels, this marker is now positioned as a key testing criteria for controlling blood sugar levels in treating and diagnosing diabetes. In turn, there is a greater need at the frontlines of diabetes testing for immediate measurement of HbA1c as well as blood sugar (blood glucose) measurements.
*2 Variant hemoglobin
Genetic mutations result in the replacement of constituent amino acids within the hemoglobin inside red blood cells. This affects the 3D structure of the hemoglobin. There are a number of different types of variant hemoglobin with HbS, HbC, HbE and HbD being the most well known.
*3 HPLC method (High-performance Liquid Chromatography method)
HPLC method is a method to separate various components in a mixture and calculate the ratio of each material. It can also measure HbA1c with a high degree of accuracy. ARKRAY developed the world's first dedicated HbA1c analyzer using HPLC back in 1981, which is still widely used in medical facilities today.
Overview of the ADAMS A1c Lite HA-8380V
Name

ADAMS A1c Lite HA-8380V

Release date

July 15, 2016 (Fri)

Specifications

Meas. target
Whole blood or hemolysates
Meas. items
HbA1c (Stable HbA1c), HbF
(HbS and HbC can be detected in the Variant mode.)
Meas. principle
HPLC
Measuring range
HbA1c: 3-20% (NGSP), 9-195mmol/L (IFCC)
HbF: 0-100%
Sample volume
Whole blood: Approx. 4μL, Anemic sample: Approx. 8μL, Hemolysate: Approx. 350μL

Process speed
Fast mode: 100 secs / test, Variant mode: 160 secs / test
Power
300VA
Outer dimensions
330(W) × 515(D) × 485(H) mm
*Not inc. protruding parts, eluent packs and hemolysis wash solution bottle.
Weight
Approximately 35kg
*The column unit and reagents are manufactured by Sekisui Medical.
This product will be sold through ARKRAY Marketing, Inc.
ARKRAY Marketing, Inc. is ARKRAY, Inc.'s distributor in Japan