News & Topics
Dec 16, 2015
ARKRAY Europe, B.V. has moved to new office
ARKRAY Europe B.V., ARKRAY's European Authorized Representative Office has moved as of Nov. 1st 2015 to a new building.
New address is:
ARKRAY Europe, B.V.:
Prof. J.H. Bavincklaan 2 (before it was no. 5)
1183 AT Amstelveen
THE NETHERLANDS
>Google Maps(click here)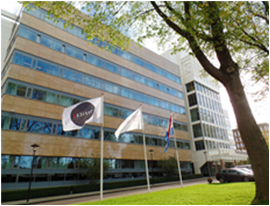 ARKRAY Europe is based since November 2004 in Amstelveen, a city that lies next and a bit South to the capital of The Netherlands, Amsterdam. Since Amstelveen is close to Amsterdam Airport Schiphol, which serves as a gateway for Europe, there are many Japanese companies based here.
Above you see an exterior view of the new building where ARKRAY Europe B.V. is now located. Here we now welcome our distributors from Europe, Africa and the Middle East - and all ARKRAY instruments are waiting for action - to be used in various service and scientific application trainings or for showing at exhibitions and congresses.