The GLUCOCARD X-METER is the brand new SMBG (Self Monitoring Blood Glucose) from ARKRAY.
A system with both style and top specifications.
Quick results - Just 5 seconds
small sample volume - 0.3 uL
Slim Design - 12 mm
Automatic Calibration
Storage of 360 test results
Data management
(With the MEQNET SMBG Viewer)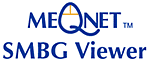 In order to download "MEQNET SMBG Viewer", you need to purchase "MEQNET SMBG Viewer Connecting Kit".